Just a couple of months ago, a party of fans of quality sound heard the news about the release of a new version of Huawei's wireless smart-speaker Sound. To say that this information caused a stir is to say nothing at all. Especially since the first version of this series, which was introduced last year, was Sound X, received very good reviews, especially since it was the company's first experience in developing Hi-Fi class loudspeakers. But in this case the interest shown bordered on a state of euphoria or even such a quiet and sometimes loud insanity.
All right, let's take it in order, especially since the first lucky ones, and we, among others, have already had access to the long-awaited body.
What awaits us? Sound keeps silent
The first thing that attracts attention. Chinese marketing experts understood that without experience in this field, it is almost impossible to count on large profits. But times are changing, and they did not go the way of cloning successful models of equipment, but did a lot of tricks, signed a cooperation agreement with the French brand Devialet, which is now rightly considered one of the leaders in the development of wireless active loudspeakers and not only.
What only one Devialet Phantom series is worth is its futuristic design and unique selection of drivers, layout and circuitry. In general, the result is on a global and even slightly higher level.
So that's what for Sound X, what for the new Sound, all the stuffing was created by Devialet specialists, who in this case, you could say, ate someone. All of this gave hope that French Huawei or Chinese Devialet, we do not know how to do it right, will sound equally stunning.
But the main point that caused the stir was that the wireless Hi-Fi column with a whole bunch of tricks was supposed to be sold from us at a price within 11-13 thousand roubles, even if taking into account the shares. It is simply impossible to get past such an obvious free pass.
How to create a fuss
Do you know who deserves more recognition among Huawei x Devialet employees? Specialists in advertising campaigns. Yes, yes, that's the marketing department. It is believed that more money has been invested in the promotion of the new product than in production itself. Stylish presentation, a sea of reviews from the most famous video bloggers, stormy discussions on almost all thematic Hi-End forums.
Of course, there were doubters - it's Huawei, what do you expect at this price? But the voices that claimed - yes, it's Devialet, you can finally buy it at a normal price!
The first batch of Sound has been dispersed like hotcakes and pre-orders for the second batch are accepted, with delivery scheduled for 9 December. The lucky ones have already managed not only to unpack the novelty, but also to wash it - here it is, my beauty.
But suddenly something went wrong
We get it, we unpack it... The design, of course, is inferior to the expensive-rich corporate design characteristic of Devialet Phantom, and no one has ever expected it at such a price. But it is done quite decently, the Chinese are good, they learn from apple on the fly, and Apple transferred production to them for good reason.
But the main thing, of course, is not in the beautiful packaging and quite good-quality housing, nor even in the supplied plastic polishing cloth. The main thing we wait for is that everything is inside.
And there, companies claim, is a Devialet Push Push driver configuration that eliminates all kinds of vibration and delivers powerful and juicy bass with a 4-inch bass driver and two passive long-range cones. Three whole tweeters are responsible for the highs here, forming an omnidirectional sound picture. By the way, they also promised the effect of SAM Processing technology, which provides a clean sound.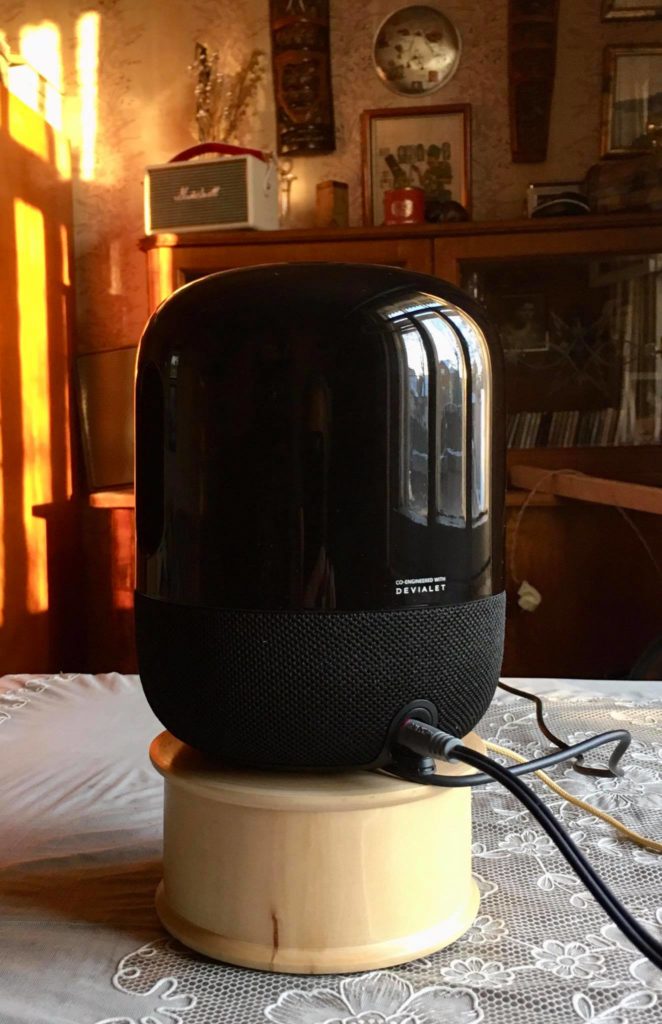 As always, the thunder rushed unexpectedly, bringing excitement to our ranks; however, the meaning of statements has changed dramatically. For some reason, a phrase began to ask - and the king, naked! In short, as the happy owners of a Chinese-French budget artwork began to notice the dark sides of the novelty.
The first to get frustrated are the owners of bitten apples - full mode management is only possible with the Android app, and you are satisfied with UPnP network protocols and Bluetooth 5.0. It turns out that you have made a column for your own smartphones, and the rest are free?
A little later, the owners of luxury players were outraged - why is the sound worse when connected via analogue input than via wireless?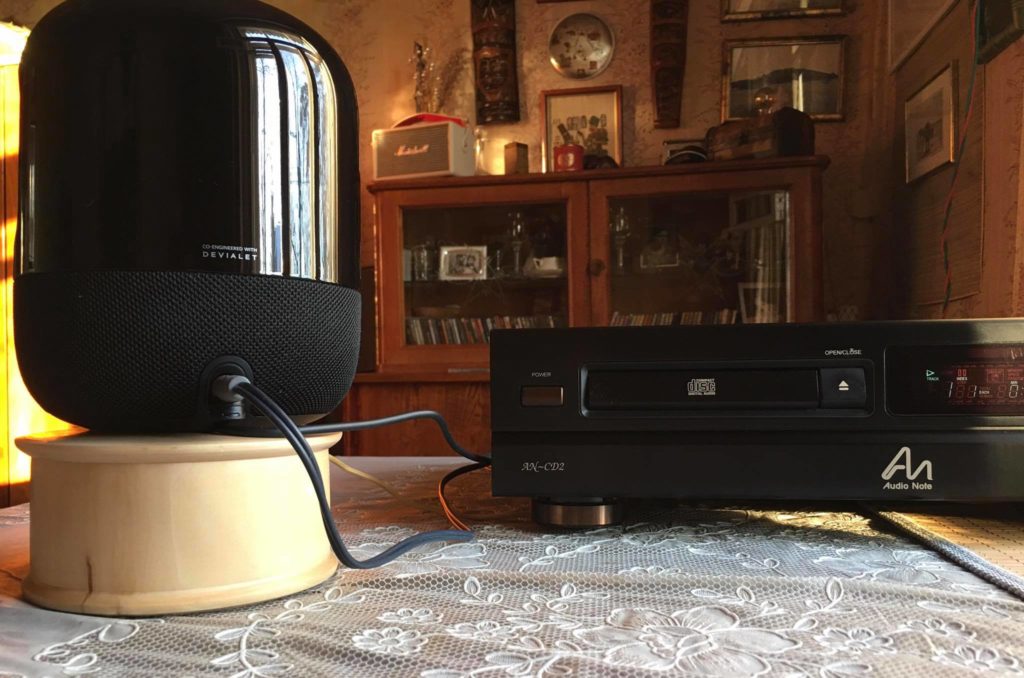 And even Android fans did not immediately realise that without NFC it was extremely difficult to connect this thing.
And then the flow of questions began to expand like a snowball during an avalanche. Thank you for the mains supply and the lack of batteries, we will now be tied up on a lanyard, why then do we have to make the possibility of wireless connection. And why can't you connect two devices via Bluetooth for stereo mode? Have you forgotten about streaming services or just didn't want to bother? At least a simple voice assistant was provided, even if it was like Alexa.
Come on, it's all technical aspects, so to speak, the equipment you had to look at when ordering. But what upset you above all was the promised Hi-Fi sound class. It's like when you were a child, when you promised Sharp a two-cassette player, and you gave him used Spring 202, bought cheaply from a neighbour with a difficult fate. Eh, if your ears are accustomed to sound quality even slightly above average, you will not be able to withstand it for a long time, give the boombox lovers of the new generation of audiophiles.
In general, whether to buy a new Sound is up to everyone to decide for themselves. But unfortunately, we had to make sure once again that there are no miracles in the world, it is not worth waiting for Hi-Fi from equipment whose cost is several times lower than the average in a relatively budget range.
And listening to the radio or chasing music from your phone - there are chic wireless speakers. No matter how you spin it, it's Huawei and it's still a long way from being a grand in this class. But we were eager to believe in New Year's magic.
Review author: Ruslan Sulima
And, finally, the review by the device owner

I was standing, and I was standing (and well, I'll notice it's standing!) that a properly designed device can do one thing. That is, everything can do it, of course, but - the plane must fly rather than drive on the road, and the car must rush on the highway rather than float or swim. And experience shows that this is the way it is - good "all-in-one" is only observed (until I say nothing) in fantastic series.

My point is that I did not expect miracles from Huawei Sound in the beginning. Although it is called "Sound" (we translate it as Sound), the name GADGET is more appropriate, with all the following. Again, advertising dictates that the device is created in conjunction with Devialet. And this (in the environment where music plays) is like a name. Not PASSLAB or CABASSE, but still a brand. Which has achieved something in the field of "all in one". And this "something" was used by clever Chinese designers in their top product (which is how it is advertised) by all 200%.

Sadly, I never understood where? The device is definitely playing, but - dimly. To put it mildly, "like everyone else". Demonstrates spatial effects? You touch it "on top of the cap" - the sound changes. This is exactly what "effects" are. The bass is a little louder, the voice has gone into the background. The voice has returned, but the overall panorama is flat. There was (sort of) some background. The question is, how does this relate to music? Personally for me - no, no "depth", "volume" and other pleasant surprises.

The question is, what are we waiting for? What is that nice "Chicago" thing that will depict us? That is - it won't start babbling naturally, but (legibly) will reproduce something of the bass. " Smoke in ze water" and the usual pa-pa-pa? Don't get your hopes up - instead of bass, the guitar will hum somewhere behind the stage something that resembles a steam engine (funny but not to laugh at) and that's the whole concert. And the "air" of the percussion instruments will not appear either, as will the silver chime. The general contour of the melody, and plus or minus some kind of rhythmic pattern, which, if you know what it is about, may make you happy. That's all.

To the contrary, it is a complete impression that this acoustics is tailored to your own branded phone. It is what is playing with it - building the right sounds not through their natural amplification, but through post-processing in electrical circuits. When a signal is given to a line input, all magic is lost, and "don't shoot the pianist" begins.

I (not on the basis of needs, but out of interest) wanted to know if the Celestial Empire could produce at least some sound that would meet the declared budget.

The answer is obvious - by my own standards there is no way yet. The tiny speaker Denon, whose main purpose is to voice where there is no network, played, in the subjective opinion of a few more listeners, no worse or better. That is, no one understood why this Denon should be changed to the same Huawei - there are no tangible advantages to this, except that there is no need to recharge the speaker (in my case this is a plus, as the speaker's main purpose is stationary use - the gym sounds).

Can this Chinese innovation be used where there is a need for at least some kind of normal sound? In my case, no - after a week of operation (5 hours of training) the Robinsons decided to 'bury a woman' on a desert island. What will appear in return - the question for now, but (obviously) it will definitely not be Chinese brand products. Why - I hope it's clear

Yu. Sharapov