Until now, I've never encountered headphones with bone conductivity. No, of course, I've heard that they exist, but it was all within some strange concepts that are very far away from you. But I have headphones on the test. Aftershokz AeropexThey're quite famous headphones, and you'll find enough reviews on the network, I'll try to assess their musical abilities, which can be relied upon by audiophiles and music lovers.
Initially, I wasn't going to go into detail about their design and the way they worked, just to describe the sound, but there was actually a lot of impressions from these headphones and I wanted to share my experience as fully as possible.
i got a weighty box, and the quality of the packaging and design said that the company's approach was serious. a massive "folding" box with a super cover, a rich set of equipment. i was pleased with the attention to detail - the headphones themselves are additionally fixed in the socket with special velcro, so that if you twist the box in your hands for the first time, they did not slip out of the package inadvertently. but even if they do, nothing terrible will happen. despite the fact that the headphones are quite miniature, constructive they have an unbreakable: flexible titanium headband, and the whole console.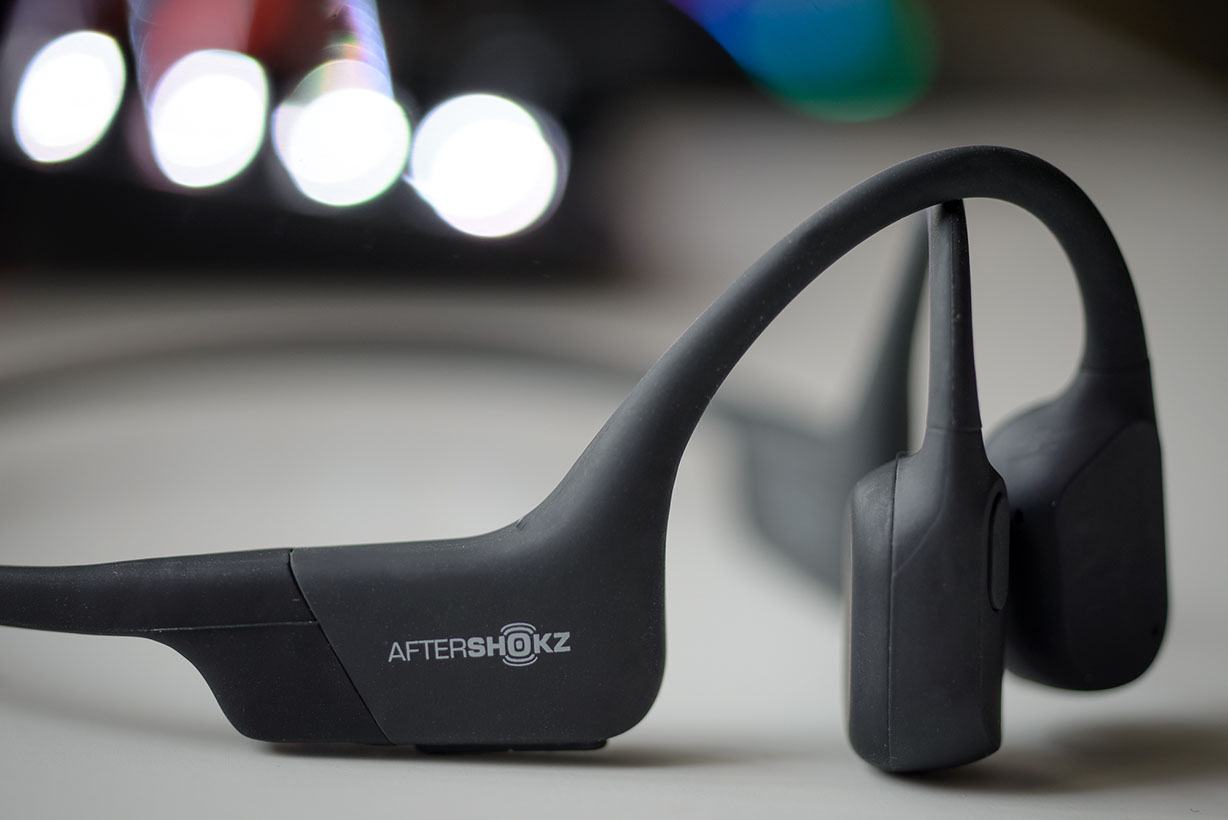 Headphones Aftershokz Aeropex are equipped with a rubber cover with a magnetic latch cover. It's a nice thing, of course, but I don't think it's necessary at all. You just stick the headphones in your pocket or bag, if for some reason they're not on your head. They won't break, get dirty or spoil. They're not afraid of sweat or rain, they can swim in them! No holes - no problem. The cable (and there are even two USB charging cables) on the magnetic clamp, and the jack (it's actually two pin bumps) is completely open. If the jack gets wet, the headphones flash red and blue.
Headphones are lightweight and can be worn on your head all day without taking them off - I tried. After a while you stop noticing them. Usually the main source of headphone irritation is the delicate earwax and ear canal, which are permeated by the smallest blood vessels, so no matter how comfortable the classic headphones are, you'll still be waiting for either overheating or poor circulation. It's not the default. The head is a much more resistant thing to this kind of irritation than our favorite ears. The control is conveniently made - on the behind-the-ear block
I have recorded my voice on the recorder, and several times while on the phone I asked if I could hear well - and several people said it was better than usual when I spoke through a smartphone by pressing it to my ear. However, the way these headphones interact with the sound environment, I will be back at the end of the story, because it is time to get to the main thing.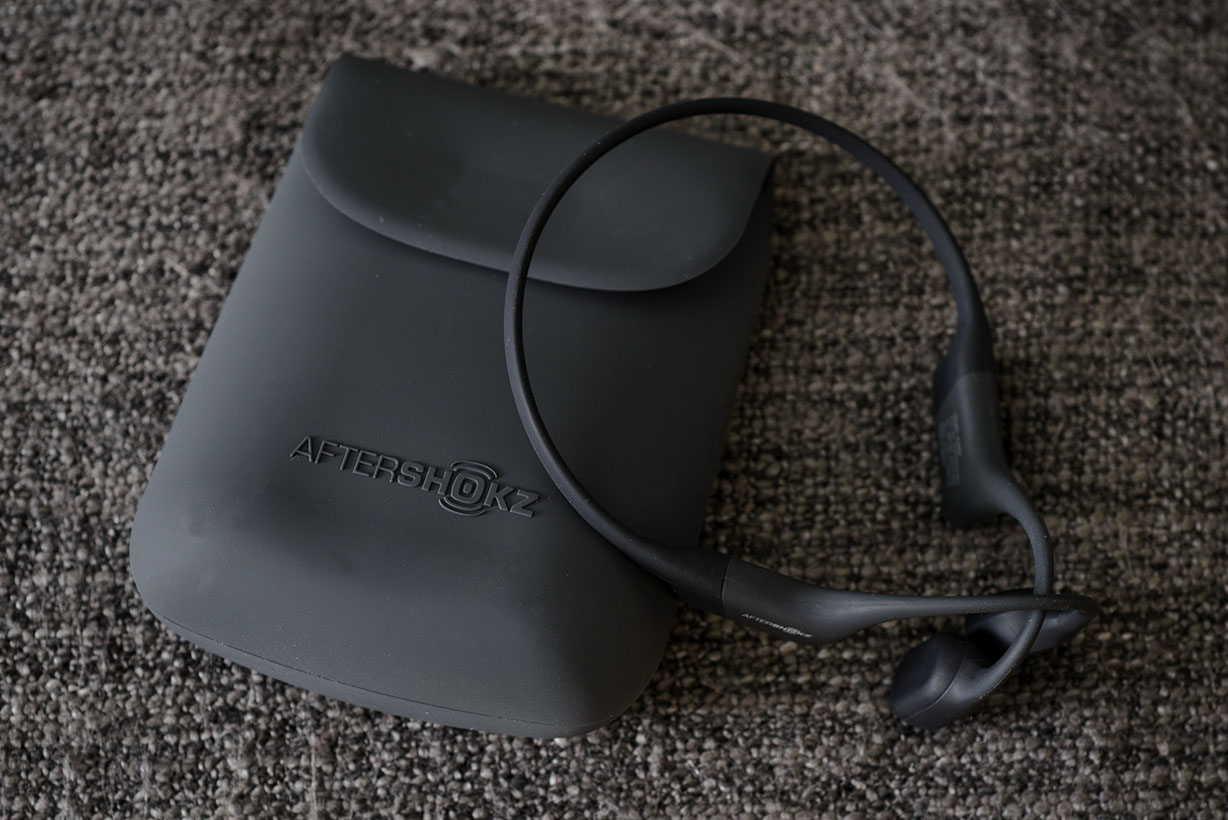 First, I'm going to talk about sound in our common sense: you sit at home in silence and listen to music as it sounds on Aftershokz Aeropex? I wasn't expecting anything special from the beginning, especially since I was warned about it right away. They said it wasn't audiophile headphones and had never been designed in that way. They're presented as "genres", whether they are or not, we'll see.
If you're looking for the best headphones at this price (and they're a little cheaper than the first Apple Airpods) and you're only looking for the best sound-oriented ones, then Aftershokz Aeropex you'll be the last to buy. Even Apple Airpods sound a lot better. That doesn't mean Aftershokz sounds bad!
The sound of bone conduction headphones has its own peculiarities. from the point of view of electronics, we have a Bluetooth version 5.0 and a sbc codec - in general, nothing unusual, a lot of headphones are produced in this format. the best quality does not have to wait, but in general it is not an obstacle to good sound. as for the transmitters themselves, there is something to talk about. first of all, subconsciously, you do not expect the sound to be really similar to the one you hear through the eardrums. but it is really similar! I have tested the headphones on several people, and ? Aeropex they paid special attention to the sound, has a good reason. Yeah, the sound is really heard the way it plays in regular headphones. Wonders, that's all. After a while, you realize that the sound is like this, but not quite. The biggest problems are noticeable with bass. You could say it's actually gone. I mean, imagine you're sitting at your computer in front of a couple of decent monitors, and instead of bass you beat the rhythm with your finger on the edge of the table - that's what bass (most of it) sounds like on these headphones. I mean, you realize that it's like this.
Speaking of timbres. Surprisingly, the timbres are plausible here, and the basic tone has a pleasant fullness and even a good fatness sometimes. Especially if we're talking about the middle. Yes, the middle is a strong place for these headphones, and if you listen to music that focuses most on this range, and also with a small number of instruments, these headphones are not disappointing. I mean, exactly what is not disappointing from the position of listening to music, I'm talking about targeted listening. The middle, especially the vocals, sounds good. Good, plausible.
Dynamics Aftershokz Aeropex Also has its own peculiarities, the attack is weakened in amplitude relative to the main tone, and the sound turns out to be rounded. Hence the focus of headphones on melodic and relatively simple genres, such as folk, song, simple blues, and even sometimes jazz. You also notice the coherence of the sound - almost all compositions play very coherently, synchronously and rhythmically. Apparently, this is a strength of this method of playback. In addition, they have no problem with the expressiveness or message of the composition. Otherwise I met the opinion that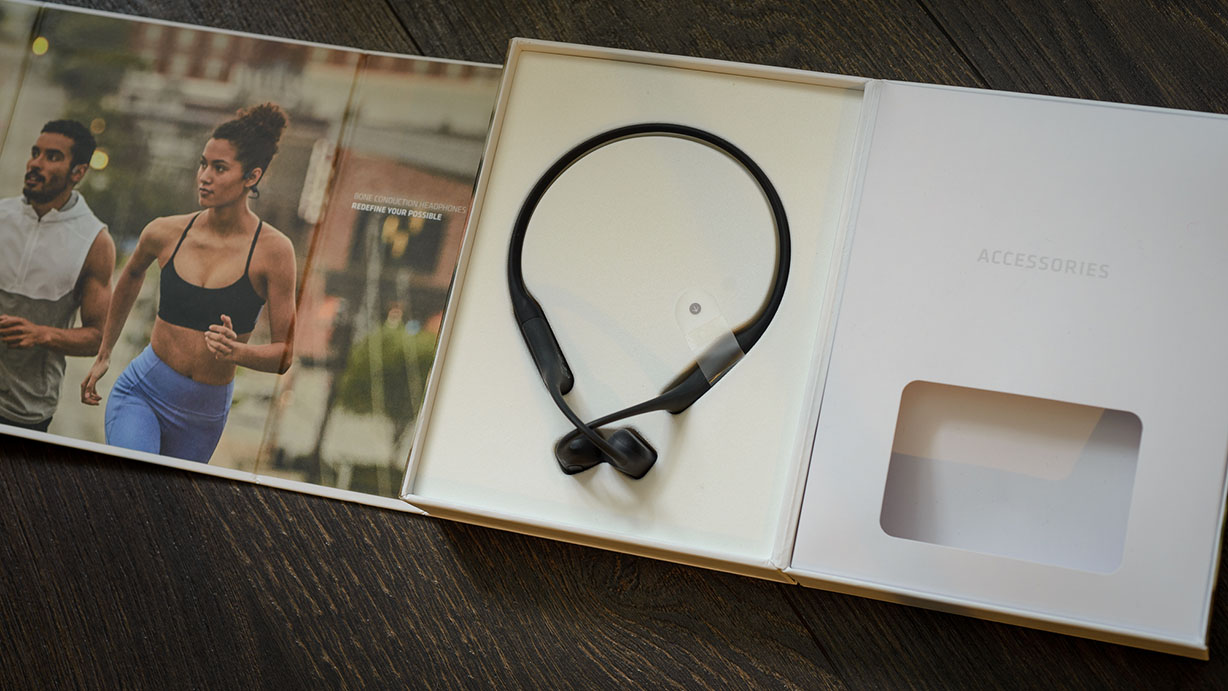 Anyway, I listened to a very large part of my playlist (and that's about 300 tracks) with pleasure - there's just stuff there that you can't hardly listen to while you're driving. But if you listen to hard, percussive things, headphones can't cope with them. I think you can already understand the reasons from what I've said above.
There's another feature of the sound of the headphones Aftershokz Aeropex - when a certain volume threshold is exceeded, they start to vibrate on the skin, like a phone vibrating, only, of course, much weaker, due to the smaller mass of the moving element, but nevertheless, I can't help but notice that the effect is, however, it manifests at volumes close to maximum and most often on music, where there is a saturated bass. that is, headphones honestly try to play this loud bass, but they can't, and instead of bass you get this tickle. In fact, you get used to it in a couple of days, and do not pay much attention to it.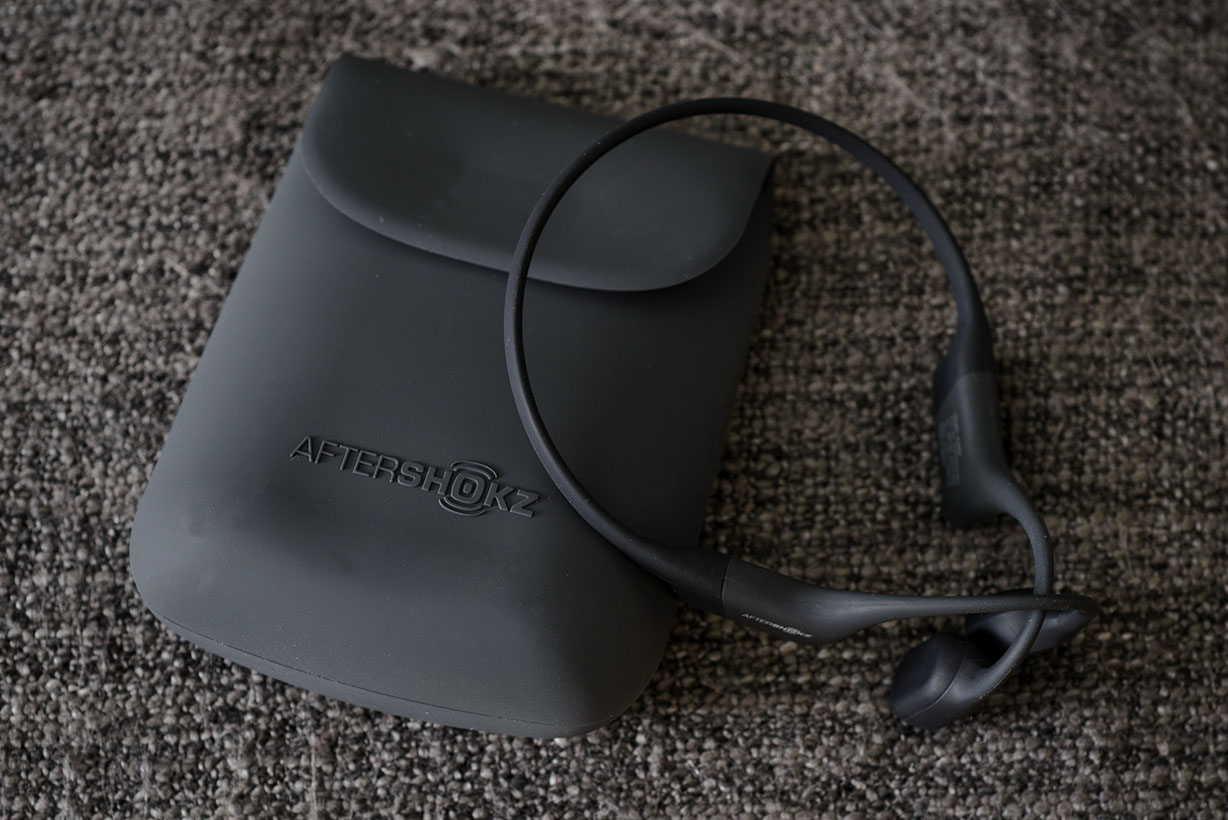 First of all, it's a really high quality, reliable and glitch-free thing - after all, the company is implementing its technology for military and medical applications - and it can be felt at once. Everything has been brought to mind here, the use of headphones does not cause the slightest criticism. Here's a simple example for you. Headphones Aftershokz Aeropex there's an LED indicator that changes color depending on the condition (ready for smartphone connection, charging, charged, wet jack, etc.) But it's off when you use the headphones as standard! Personally, I'm pissed off with this blue flashing light that's on the vast majority of the headphones (again, Apple Airpods don't count), and with which you walk around glowing like a cyborg. Frequent comparisons with Airpods are for a reason - I personally consider them the most thoughtful headphones for every day, and it's very good that Aeropex is one of those very few models (and are there any?). Aftershokz Aeropex to meet you. Very unusual headphones that surprised me nicely.
Review author and photo: Yury Volobuyev