Oleg Masur: Tell us a little about yourself, how you came to Naim, what do you do at the company?
Steve Sells: I've been working for Naim for 17 years. I've been interested in audio my whole life, starting at the age of 7, when I was sitting in my grandfather's big chair listening to his Hi-Fi system. I listened to the British Philharmonic Orchestra and I still remember the feeling in my chest when I turned the sound up louder and the music completely captivated me. I started making loudspeakers when I was 11, amplifiers when I was 14. So when it came time to choose a profession, I went to university to study as an audio system designer, and I finished my studies. I've worked for many audio companies. I started at Cambridge Audio in 1988, then moved to Wharfedale, Cyrus, Mission, Roksan, Quad, NXT.
OM: All good English companies...
SS: That's right! I've worked for a lot of good English companies, and each of them is different. Quad, Roksan, Cyrus - everything has its own approach to development. In  I liked Roksan very much, because they have big cases that are easy to put electronics in. In Cyrus, on the contrary, you have to put everything in a small case. They are still trying to put everything in small boxes. In general, each company has its own approach to design.
SS: And so, 17 years ago, I came to Naim, where I met Roy George, the director of the company, and Paul Stevenson... for me, it was an unforgettable experience for a lifetime. The difference between Naim and other companies is the amount of time spent listening. Every detail has to serve the sound. We spend months listening. One resistance we listen to as much as we listen to the whole device. We listen to small nuances, then we put in a new detail, then we go back. Our approach to design is different from that of other companies, because the main thing for an engineer is with 
OM: Who comes up with ideas? You or someone else from your team?
SS: Not just me. We're very lucky, we have 25 talented engineers in the company. Most of them are working on software. 3 people write applications for iOS and Android, and only recently one person did it, but he had too much work. We have a separate department that tests the software. They give feedback to the programmers - what to leave, what to change, what to add. We also have a department that develops all the mechanics. Our electronics development department consists of only 7 people, which is not so much a mile away.
OM: Who decides what kind of sound Naim devices should have? 
SS: From the beginning, after the company was founded in 1973, Naim's sound was determined by Julian Wereker, and when Paul Stevenson and our Technical Director Roy George started working with him, it was a three-way decision. Later, when I joined the team, we engineers were prototyping for Paul and Roy and they would tell us where to go to get the best sound. Roy has recently left the company but is still going to be auditioning for a few days a week, so at the moment he decides he's in charge. He comes in and we listen to the results of our work with him and my colleague Harry Crocker, who has been with the company for 30 years. That's how Naim sound works. Any product we bring to mind and launch only if we can really enjoy music with it.
OM: Why didn't you manage to "spin" your own speakers?
SS: That's a very interesting question. I think they were very difficult to set up...I myself had a Naim SBL loudspeaker that consisted of separate speakers.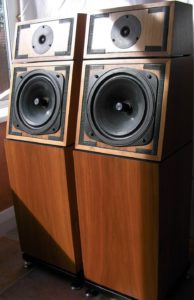 housings and the subwoofer, then I changed it to the SL2, and it's a very good speaker, it's got clear sound, it's very fast and it's very detailed. But for the dealers to show it well, they had to put it together correctly. I think we made them very difficult to assemble. Although I'm sure those who assembled them correctly were rewarded with a good sound..
But now we have  Focal, and they make loudspeakers, and we make electronics. Each company concentrates on its own business.
OM: Kwhat are the newest products you are introducing now?
SS: Our newest devices are Streamers. We have been manufacturing them for almost 6 months and they are the embodiment of all our latest technologies.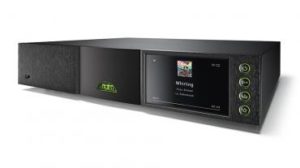 OM: What is the difference between old and new streamers?
SS: We started working on this big project 4 years ago, using a "holistic" approach, observing the full path of the signal. In the first version, a Streamer module was installed, bought from another company and supplemented with our CD playback technology. But when we created the second, new generation of streamers, we changed our tactics - we began to explore and improve the path of the signal. So the first thing we changed was the way the audio signal was transmitted from the streaming card. In the first version, the signal has a clock frequency, which is set by the streamer. if you cut it down, the signal will be clearer and the sound better.

We took the technology from video - LVDS (Low Voltage Differential Signal), reducing the signal current from 3.3 to 0.3 volts, ie reduce it by 10 times, at the same time getting rid of noise. 
We've also improved the analog part. For example, in the NDS, we changed the DAC power supply, byby borrowing the DR (discrete-component voltage regulator) power supply technology that was originally developed for the senior product line. Sound has fantastically changed for the better!
OM: What's the next step for the company?
SS: We've spent a lot of time developing the Uniti series and the new streamers, so I think we're going to take a little break now to see what technologies we can improve. We're now involved in several research projects, the results of which, together with Naim principles, may help us to create new products. There's a lot of engineering fun ahead of us, it's time for games! The development of the transistor was also interesting for us: it's a new way of manufacturing transistors, new amplification circuits, unusual digital to analogue circuits. So I can't say yet what products we can expect in the future, first of all it's time for us to have fun - development. We look not only at sound improvement, but also how people use our audio systems, how they are updated. That way we can understand where to go next.