You need to be logged in to see additionnal information and be able to contact the advertiser!
THIS ADVERT HAS EXPIRED!
кварц

Conrad/McCrypt-2600 прямоприводной кварц
19,500.00 RUB
---
Advertiser

Type of Advert

FOR SALE

Item Condition

8/10 USED LESS THEN 3 YEARS, LIKE NEW

Time Left THIS ADVERT HAS EXPIRED!
Quantity 1
0 Questions
0 Reviews
1827 views
Description
Кварцованный прямоприводной, полностью ручное аудиофильское управление с удобной кнопкой моментальной остановки/cтарта оборотов, отдельной кнопкой общего вкл., стробоскоп держит обороты стабильно даже без кварца благодаря высокому вращающему моменту крупного мощного двигателя, кварц вкл/выкл. Немецкая разработка, малазийская сборка на японских и евро-комплектующих. Достоинства: исключительно чуткий подвес тонарма в обоих плоскостях на 4 точках (шарнирах) типа "обруч в обруче" и с регулировкой высоты тонарма для абсолютного угла слежения иглы относительно бороздки, ночной подсвет диска "выплывающим" маячком, исключительно тихий ход с отличным изолирующим эффектом подстраиваемых ног и антирезонансного корпуса с утяжеляющей плитой по дну, съемные кабели питания и звука (RCA тюльпаны) для аудиофильского апгрейда. Паспорт-оригинал с данными и чертежом протрактора. Голова MM с новой непользованной иглой Numark/Sanyo-09.  Состояние отличное, технически и визуально, включая чистую крышку. Внимание: модель формально считается диджейской/студийной, но названные выше черты - хай-эндные аудиофильские, как и качество звука с общим ощущением.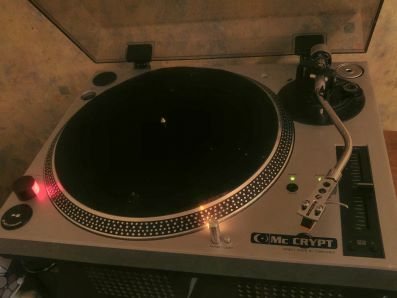 Москва - Russian Federation
---
---
Other adverts from vladimir yelbaev
---
Other adverts from виниловые-проигрыватели
---
---